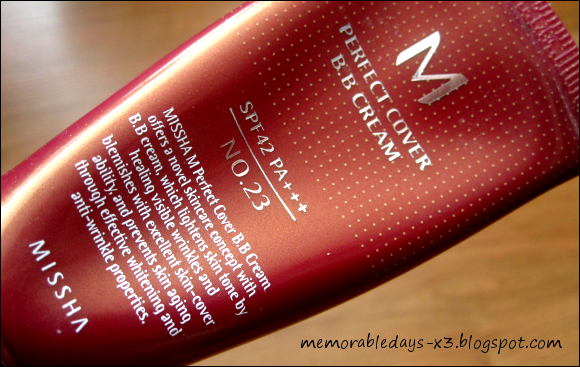 There are a few Missha stores in Shanghai and I bought one of Missha's BB cream while I was there. I have been using it for almost 5 months and I really think its a great product.
M Perfect Cover BB Cream SPF 42 PA++
It's a Korean product. The Blemish Balm (BB Cream) gives an even and natural-looking coverage with the soothing, moisturising properties of a cream. It is suitable for all skin types including acne-prone skin, and can be used as a makeup base or foundation.
Text on the packaging
It offers a novel skincare concept with BB cream, which lightens the skin tone by healing visible wrinkles and blemishes with excellent skin-cover ability and it prevents skin aging through effective whitening and anti-wrinkle properties.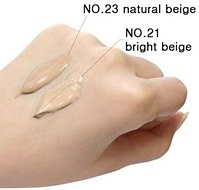 The color:
#
23; Natural Beige.
Size:
50 ml
Price:
in Shanghai it was around 20 euros
Scent:
perfume
It contains:
UV Protection (SPF 42 PA+++)
which is ALOT!
Wrinkle improvement
Whitening
I
definitely
will purchase this product again. Its creamy and the coverage is medium, but its very easy to apply and to build up. This BB cream gives me a matte finish and it makes my skin tone looks even. However, it does makes my face a bit oily, but I just need to blot it and then its ok. It gives me a medium coverage, but I think its good enough and it seems to last around 12 hours. It depends how the weather is, if its very hot outside, it will last less than 12 hours.
Pros:
♥ Packaging
♥ Nice scent
♥ Easy to apply, easy to build up
♥ Doesn't feel cakey/heavy
♥ SPF 42
Cons:
♥ Coverage: medium
♥ No oil-control
My rate:
♥♥♥♥
♥ 4.5/5
I really want to recommend this product to you guys, it gives you an even skin tone, it smells great and its worth the money. If you buy it on Ebay, its around 15 dollars, which is very cheap! Or you can just go to a Missha store nearby your house. There are Missha stores in the USA, China, Hongkong, Korea, Japan, Taiwan, Australia, Singapore, Thailand, Vietnam, Mexico, Mongolia, Malta, Romania and New Zealand. BUT NOT IN EUROPE.. GRRRR T_T"! They never sell these good stuff in Europe =(