Last time a friend asked me: "Do you spend all your money on make up?"
My answer was: "NOOOOO, I spend more money on food than make up XD!"
And that's still my answer!! Seriously, all my money goes to food XD!!! SUSHI IS EXPENSIVE U KNOW =P !

But ok, I have to admit, I
do
buy make up once a while and this time I bought A LOT! You know why??? Because, the make up of the brands; Maxfactor, Catrice, Essence, L'oreal Paris, Rimmel, Maybelline and GOSH were all
50% off
!!!!!! Seriously, which girl wouldn't go insane then? The stores were so crowded, all girls were taking everything what they could get l0l. I had spend 60 euros @_@", but saved around
53 euros
! Wohoe xD!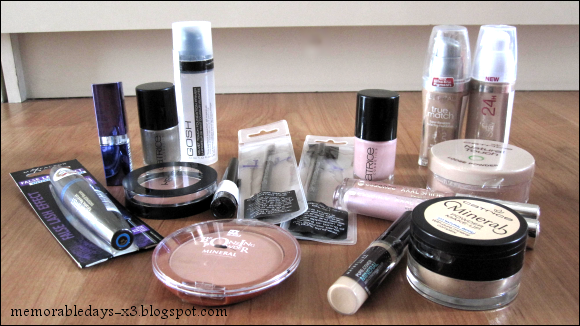 I bought a lot of things of different kind of brands, just to try it out :)
What did I buy:
01. Maybelline Pure cover Mineral concealer
02. GOSH Blush natural 36 rose whisper
03. GOSH Touch foundation primer
04. GOSH Eyebrow/lash brush
05. GOSH Eyeliner brush
06. GOSH Eyeliner pen black
07. 2B cosmetics bronzing mineral powder
08. Catrice nail polish: 210 Just Married (pink)
09. Catrice nail polish: 300 Be My Millionaire (silver)
10. Catrice Natural Touch Powder 020 Transparant Beige
11. Catrice Mineral powder 010 Natural Beige
12. Catrice Lip stick 700 Nude Delight
13. Essence Lipgloss 04 Rising star
14. Essence Lipgloss 08 Glamour to go
15. L'oreal True Match Foundation N4 Beige
16. Maybelline Super Stay Foundation 010 Ivory
17. Maxfactor False Lash Effect Waterproof Mascara
OK I DON'T HAVE TO BUY MAKE UP ANYMORE FOR 1.5 YEARS OR SO X_X"