First of all,
I-
LOVE
-SHEET-MASKS
!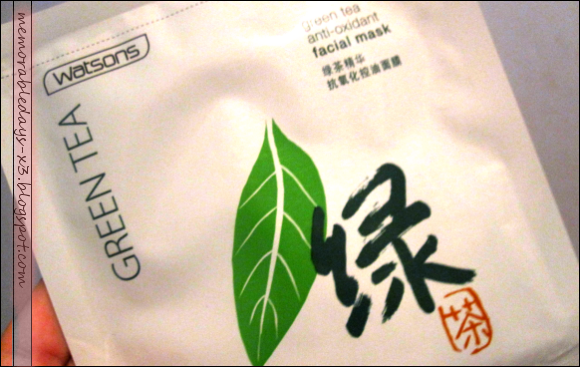 This time I tried the green tea sheet mask of Watsons~

Of course you have to read the instructions before you use it, especially if you're using it for the first time :) Your face has to be clean before applying the sheet mask. So make sure you wash your face first. The sheet mask looks like that (see picture on the right) when you open it.
Just simply unfold the sheet mask and put it on your face for about 20 minutes. I know it looks a bit scary when you have the sheet mask on hahaha I would love to scare you at night ='D gnagnagna!! During the 20 minutes, just relax, close your eyes and listen to some music :) The sheet mask feels so refreshing and it moisturizes my face! When I opened it, it didn't smell like green tea, it smelt more like a Chinese medicine. You will probably think EEWW THAT STINKS~ But its not! You won't even smell the scent when you have the sheet mask on =) It's a pity that it doesn't smell like green thee.
After the 20 minutes, remove the sheet mask, you don't need to clean your face again. Just let it dry and you can apply your night or day cream :)
I definitely will purchase this product again when I'm in Asia! These sheet masks are around 1 euros each! So, its not expensive at all!
My rate:
♥♥♥♥
♥ 4.5/5